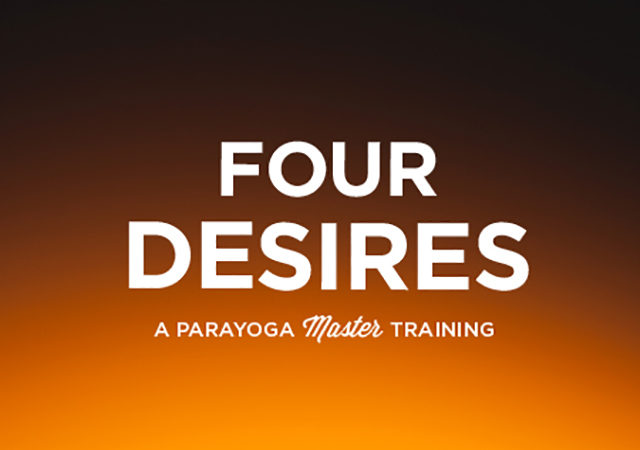 The Four Desires: The Yoga of Fulfillment – A 3-DAY PARAYOGA® MASTER TRAINING (PYMT)
CEs: 25 with Yoga Alliance for RYTs + IAYT for Certified Yoga Therapists, and is fully endorsed by ParaYoga for Level 1 certification
Next training: January 2021
The Four Desires guides you through a unique process to help identify your intentions, overcome self-defeating ideas and behaviors, and recognize your Soul's purpose.
Yoga is the path to find fulfillment in not one, but two realms: the spiritual and the worldly. Your soul longs to find the peace born from merging with your source. This training is about the yoga of life, helping you to rediscover meaning and purpose. The training is interactive, challenging, and focused on connecting to the inner self that can lead you toward lasting fulfillment and freedom.
The Four Desires is based on the ancient insight that your soul has four distinct desires…
DHARMA—the desire for purpose, the drive to become who you are meant to be
ARTHA—the desire for the means (health, security, finances) to prosper materially
KAMA—the desire for pleasures like intimacy, beauty, and love
MOKSHA—the desire for spiritual fulfillment and lasting freedom
The journey of learning to fulfill these four desires is how each of us creates our unique path to lasting happiness and, at the same time, how we each achieve our most vibrant, creative and meaningful contribution to the world.
Attend and learn tools to help:
Uncover your soul's unique purpose – Dharma – and begin to shape a life strategy so you live with a commanding sense of purpose, capacity and meaning!
Disentangle from your Vikalpa – the thought constructs borne from self-doubt and past experiences – that bind you to old patterns and keep you from creating a new future.
Establish a strong Sankalpa – an intention that aligns with Dharma and helps you move toward living your unique version of fulfillment.
Key topics we will cover:
Understand the role of desire in the spiritual life and uncover your life's unique purpose
Clarify your heart's missions of need, pleasure, purpose, and spirit, and increase your capacity to fulfill them
Access and heighten intuition, self-awareness, and omniscience
How to live more joyfully and intentionally, and access lasting peace
Understand and transform the beliefs, non-constructive patterns and tendencies that sabotage fulfillment
Learn the spiritual principles of shaping personal destiny
Transform, heal, and strengthen through systematic, deep relaxation, meditation, and new life-affirming intentions
Release the bondage of negative thinking as self-fulfilling prophecy, and overcome future challenges
Use any and all life-experiences as leverage to greater freedom and make your most creative and meaningful contribution to the world
Stay on your path to success and happiness
Cost of weekend includes:
MP3s of the training, including daily asana and meditation practices
Bonus MP3s of Sankalpa Shakti Yoga Nidra Practice
40 day reminder for Sankalpa Activation
Certified ParaYoga® Four Desires trainers present
CEs: 25 with Yoga Alliance for RYTs, IAYT for Certified Yoga Therapists, and this training also fully counts toward the ParaYoga® Master Training (PYMT) Level 1 certification program. Certificate of Completion emailed upon complete attendance of the training.
Want ParaYoga® credit?
To earn your ParaYoga® Level 1 Certification training credit, you will be given a link to submit your codes to the ParaYoga office upon completion of the training. Yogarupa Rod Stryker reviews each set of codes. If there is additional finessing to do, he will contact the teacher(s) who taught you and the two of you will work together outside of class to edit the codes and resubmit.
Upcoming Four Desires Trainings
January 8-10, 2021

3 Day Training in MINNEAPOLIS, MN

THIS IS A *VIRTUAL* TRAINING – Livestream/ZOOM details will be sent out a day before the class series starts. Cost includes VIDEO streaming recording access of the PRACTICES for a month post training.

Teachers: Tanya Boigenzahn 
When: Jan 8-10, 2021
Time: Fri: 6pm-9pm + Sat/Sun: 8am-6pm – CST – US CENTRAL TIME
Regular students: $400 ($425 after 12/8/20)
Devanadi 340hr TT grads*: $375 ($400 after 12/8/20) * You must be a CURRENT or GRADUATE student of our 340hr Yoga TT at Devanadi to register at this price.
Required Books:

REQUIRED – The Four Desires: Creating a Life of Purpose, Happiness, Prosperity and Freedom by Rod Stryker. Please read the Introduction and Parts I – III prior to the start of the course.
REQUIRED – The Four Desires Workbook – you do NOT need to do anything in this other than bring it to the workshop.
HIGHLY RECOMMENDED – Four Desires Practice CD – contains the meditations and Yoga Nidra outlines in the book. VERY helpful OR a subscription to Rod Stryker's Sanctuary app, available for smartphones, which have a large variety of the guided meditations and yoga nidra practices outlined in the book are available
Purchase items here: https://www.parayoga.com/store/
Cancellation Policy: No refunds. This training requires 2 week notice of cancellation by phone or email. You will receive a studio credit, less $100 cancellation fee per registration. If cancel within 2 weeks of a training, payment is forfeited, and no studio credit will be given. No shows will receive no credit.
Early Bird Payment Details: Pay in full by the early bird date to receive the early bird pricing or your registration will be updated to reflect the regular pricing.
Words can't quite express how powerful this past weekend was for me… as you know, this was not my first time with 4D, but for some reason this one was VERY special. I thank you for holding such a beautiful, nurturing, and grounding space to do this very deep work. The two of you are truly remarkable, and I thank you from the bottom of my heart! ~ Aleeah Sheehan

What Makes Devanadi's Four Desires Unique?
The Shakti of Tanya brings a feminine, creative and intuitive approach to this best-selling course. This training is about the yoga of life, helping you to rediscover meaning and purpose. The training is interactive, challenging, and focused on connecting to the inner self that can lead you toward lasting fulfillment and freedom. A course like no other, applying the most profound insights into happiness and lasting fulfillment, the Four Desires process will transform you and your life – forever. This is a course for anyone – those who have never done yoga, experienced yoga students and yoga teachers alike – that will teach you how to unlock your soul's potential and empower you to prosper in every area of your life.

Program Teachers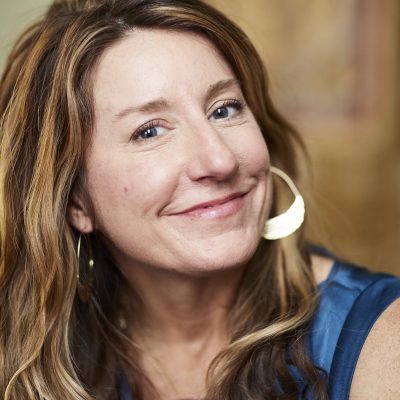 Devanadi Founder/Owner, E-RYT500, C-IAYT, RTT, AYS, CHTP, YACEP & Reiki Master, Certified ParaYoga® Level III Teacher & Four Desires Trainer